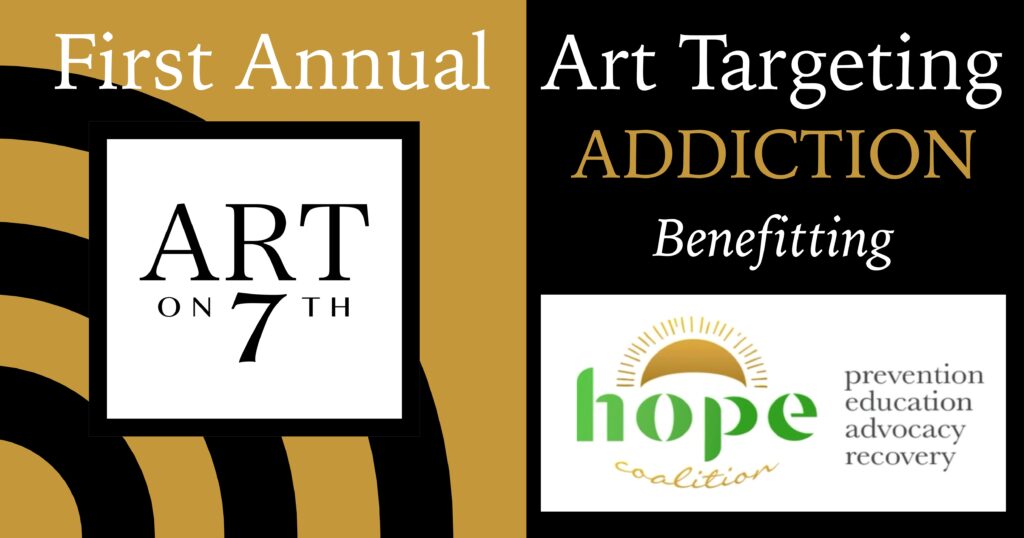 HENDERSONVILLE, NC | September 19, 2023 – On May 23, 2023, Art on 7th gallery owner, Julie Wilmot, lost her youngest son James to an accidental overdose from Fentanyl poisoning. The gallery will host an event honoring the memory of James Chapman in an effort to raise awareness for the mission of Hendersonville's Hope Coalition: "Preventing substance use among youth and focusing on long term recovery for anyone impacted by alcohol and drug addiction." 
The First Annual Art Targeting Addiction will be held on November 9, 2023, at Art on 7th from 5:30 p.m. to 7:30 p.m.That specific date chosen as it is James' birthday. He would have been 31 years old this year. Wilmot states, "I can't think of a better way to honor my beautiful son's birthday than to launch an annual event for Hope Coalition in his memory. Substance Use Disorder (SUD) is a cruel disease impacting countless individuals, families, and friends. SUD crosses all ethnic, age group, and socio-economic boundaries." She further states, "Unfortunately so many people impacted by their loved ones' addiction often stay quiet because of the shame and stigma associated with the disease. As long as those impacted remain silent the mission of raising awareness gets stalled." 
Wilmot is committed to raising her head high without any shame over her son's struggle with SUD and eventual death. She celebrates all the love, friendship, and joy that James shared with those touched by his life. "SUD does not define who he was as a whole." 
Hope Coalition Executive Director, Julie Huneycutt, shares, "I am truly grateful for Julie's heart and strength. She speaks a sobering truth when she states that as long as we remain silent about our loved ones, we stall the important work necessary to reduce addiction and the unnecessary shame surrounding it." 
Huneycutt adds, "Julie and I are sisters in sorrow, as I lost our beautiful Anna thirteen years ago to an opiate overdose. I knew when she died that being silent would never honor her life. Since Anna's death, it has been my mission to do whatever I can to raise awareness, help those lost find a path to sobriety, and create prevention programs that educate youth and parents on the dangers of substance misuse. Supporting the work of Hope Coalition is vital to reducing harm, long-term suffering and the most unthinkable, death. Thank you for your support of this lifesaving work." 
There will be a brief program beginning at 6:00 p.m. to share the mission of Hope Coalition, and both Huneycutt and Wilmot will talk briefly about Anna and James. The event will include a Raffle and a 4-day online auction beginning at 8:00 p.m., November 9, and run through midnight, November 12. Online auction items* include (secured to date) paintings and artwork by Laurie Adams, Jeremy Brown, Courtney Hoelscher, Joel Hunnicutt, AnnMarie LeBlanc, Amy Noack, Jon Osborne, Robin Pedrero, Julie Wilmot, Simone Wood, and two blown glass pieces by Simon Waranch. In addition, Seth Alvo has donated accommodations for up to six guests at Berm Peak Ranger Station Mountainbike Getaway in Pisgah Forest. 
Complimentary beverages featured at The Buzz – A Social Sober Bar & Café in downtown Hendersonville will be served at the event. The Buzz is Henderson County's first sober social bar and café, a place that creates an environment that gives adults and youth alike an alcohol-free social space, a quiet place to work remotely, a place for good conversation with friendly people, or just an escape from stressors of everyday life. Not only that but 100% of the proceeds from The Buzz go back into Hope Coalition to support recovery and prevention programs. 
Marked Tree Vineyard has also agreed to generously provide complimentary wine for the event. 
The gallery, located at 330 7th Avenue East, will open its doors to everyone interested in supporting Hope Coalition on Thursday, November 9, 2023, from 5:30 – 7:30 p.m. The benefit reception is free and open to the public. Guest attending are highly encouraged to support the event by purchasing raffle tickets, bidding on items featured in the online auction, or by making a direct contribution to Hope Coalition (elementsofhope.org). All proceeds raised from the event and online auction benefit Hope Coalition of Henderson County.